You are here
Back to top
Waterfalls of Virginia & West Virginia: 174 Falls in the Old Dominion and the Mountain State (Best Waterfalls by State) (Paperback)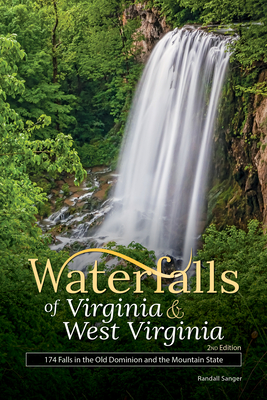 $16.95

Usually Ships in 1-5 Days
Description
---
Find Your Way to the Most Beautiful Waterfalls
Waterfalls create a feeling of serenity, a sense of restrained power. Their grandeur takes our breath away. Their gentle sounds complement periods of meditation. Let professional photographer and West Virginia resident Randall Sanger guide you to the top-ranked waterfalls of Virginia and West Virginia. Your bucket list should include these 174 gorgeous locales that decorate the landscape.
The informative guidebook pairs professional photographs of every waterfall with all the information you need, including directions, distance, hike difficulty, and more. The waterfalls are organized geographically and ranked by beauty. Start with the ones nearby, then get away to discover those further afield. These natural wonders prove that Virginia and West Virginia are home to some of the most picturesque waterfalls in America.
From Dark Hollow Falls in Shenandoah National Park to the Falls of Hills Creek in the Monongahela National Forest, experience them all with Waterfalls of Virginia & West Virginia
About the Author
---
Randall Sanger is a West Virginia-based landscape photographer. Through his photography, his ultimate desire is to glorify God's creation and showcase the natural beauty of West Virginia, and inspire others to preserve and protect the many special places found in the Mountain State. For over 20 years Randall has been traipsing about West Virginia in search of grand vistas, majestic waterfalls, and intimate forest scenes. He spends most of his time exploring and photographing the amazingly beautiful scenery found in the New River Gorge National River, the Monongahela National Forest, the Canaan Valley National Wildlife Refuge, and the various state parks and wildlife management areas throughout the state. Randall is coauthor of the multi-award-winning book West Virginia Waterfalls: The New River Gorge. He conducts photography workshops throughout West Virginia and beyond. His images have appeared in print and digital publications (both regional and national), are in private and corporate collections, and have been used for marketing and corporate recruitment. He works with several advertising/marketing agencies, with duties ranging from capturing specific images for various publications to covering events like the National Boy Scout Jamboree, and he was photographer in residence for the Canaan Valley National Wildlife Refuge. Randall is a juried fine arts photographer with Tamarack: The Best of West Virginia, located in Beckley, and his work can also be viewed at the Buxton and Landstreet Gallery in Thomas, West Virginia. He resides in Williamson with his wife, Melissa, daughter, Hannah, and trusty hiking companion Rocky, a mixed-breed dog. To see the results of his latest photography trips and more, visit www.randallsanger.com.