You are here
Back to top
Ether Day: The Strange Tale of America's Greatest Medical Discovery and the Haunted Men Who Made It (Paperback)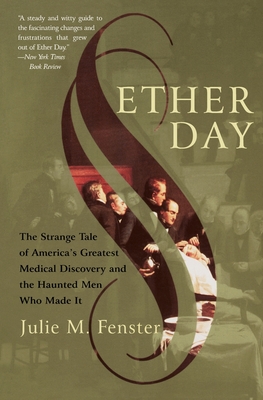 $16.99

Usually Ships in 1-5 Days
Description
---
A fascinating and entertaining look at the men behind the first surgical use of anesthesia—and the price they paid for their breakthrough.
On Friday, October 16, 1846, only one operation was scheduled at Massachusetts General Hospital....
That day in Boston, the operation was the routine removal of a growth from a man's neck. But one thing would not be routine: instead of using pulleys, hooks, and belts to subdue a patient writhing in pain, this crucial operation would be the first performed under a general anesthetic. No one knew whether the secret concoction would work. Some even feared it might kill the patient.
This engrossing book chronicles what happened that day and during its dramatic aftermath. In a vivid history that is stranger than fiction, Ether Day tells the story of the three men who converged to invent the first anesthesia—and the war of ego and greed that soon sent all three men spiraling wildly out of control.
About the Author
---
Julie M. Fenster, columnist for the Forbes magazine Audacity, has written articles for publications, including American Heritage, the New York Times and the Los Angeles Times. She is the author of the best-selling In the Words of Great Business Leaders, the comprehensive Everyday Money, and award-winning books on business history.
Praise For…
---
"A fascinating chronicle of jealousy, greed, chicanery, and outright fraud, sometimes darkly funny, sometimes appalling." — Richard Snow, editor, American Heritage
"The personal side heroic, comic, and tragic—of the early history of anesthesia has never been more vividly recreated than in Julie Fenster's well researched and crisply written book." — Roy Porter, author of The Greatest Benefit to Mankind: A Medical History of Humanity
"A riveting saga.... This is non-fiction story telling at its absolute finest." — Douglas Brinkley, Historian
"A steady and witty guide to the fascinating charges and frustrations that grew out of Ether Day." — New York Times Book Review
"It would not be inappropriate to compare anesthesia history to a Shakespearean play. Here we have all the ingredients: tragedy, comedy, farce, a well-drawn set of characters, and intricate subplots. All this and more can be found in Ether Day." — Journal of the American Medical Association
"The cast of characters here is a rich one. . . . A thoroughly compelling account, well told and well situated in its larger context." — Kirkus Reviews